We provide a comprehensive range of Immunofluorescence assays (IFA) supplied by Generic Assays.
Our IFA range includes:
ANA/ENA/ANCA
Tissue Sections; such as AMA, ASMA, Autoantibodies, AAA, ICA, EmA, ASA, CMA, SkMA, & Anti GBM
CytoBead® ANCA, ANA, ANA 2, CeliAK and RPGN assays that are used for the diagnosis of systemic and organ specific autoimmune diseases, via indirect immunofluorescence. The CytoBead® kits consist of reagents to determine IgG autoantibodies against neutrophil cytoplasmic antigens (CytoBead® ANCA and CytoBead® RPGN), nuclear and cytoplasmic antigens (CytoBead® ANA and CytoBead® ANA 2) and IgA or IgG antibodies against endomysium, transglutaminase 2 and deaminated gliadin (CytoBead® CeliAK).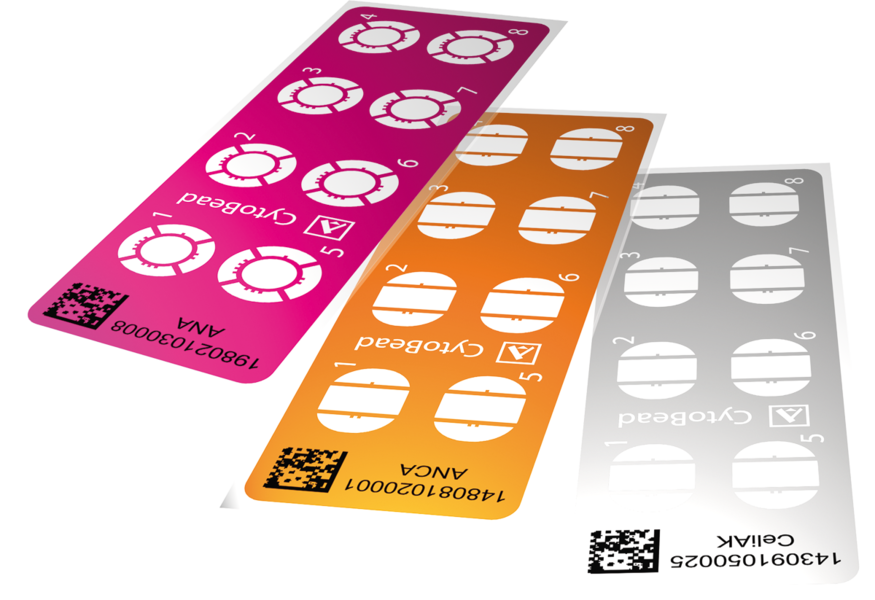 CytoBead® Technology is the next generation of immunofluorescence testing. Through the combination of natural cells or tissues with protein coated microparticles (microbeads) in one well, simultaneous screening tests at the cellular level and testing at the biochemical level for the specific differentiation of antibodies is achieved. At the end of this laboratory procedure, which takes less than two hours, both results are available.
Using conventional methods, the qualitative evaluation (screening) was carried out with a fluorescence microscope, whereby in the second step (differentiation) the determination of antibody specificity and content was performed with separate ELISA assays. With CytoBead® Technology, this is achieved in a single test. This effectively saves time, materials and money.
The evaluation of CytoBead® assays can be done either manually or automatically, using the AKLIDES® and AKIRON® Automated immunofluorescence systems.