Using linearity testing for your diagnostic assay is vital to ensure your analyzers are performing to the manufacturer's claims and specifications, ensuring reliable and consistent patient test results.
LeanGene provides the Jordanian market with LGC Main standards - VALIDATE® Clinical Linearity Testing kits to assist clinical chemistry laboratories ensuring their entire calibration curve is linear to avoid time-consuming troubleshooting outside of the quality controlled range.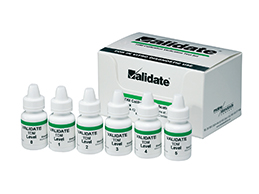 The VALIDATE® ready-to-use test kits help you with the documentation of linearity and the verification of the entire technical assay range, and not just your quality controlled range. You will be well prepared for all quality audits and accreditation inspections, including ISO 15189, CAP and JCI.

Multiple VALIDATE® configurations are available to meet the different needs of the many instrument systems from all major suppliers. The configurations are specifically formulated to maximize reportable ranges with minimum dilutions.

The VALIDATE® kits also provide assistance when troubleshooting instrument systems, reagent problems and calibration anomalies. VALIDATE® comes with a long open bottle shelf life and can be used multiple times to troubleshoot with consistency.
A broad range of linearity testing kits are available for variety of analytes including General Chemistries, Glycohemoglobin A1C, Lipoproteins, Glucose, Therapeutic Drug Monitoring analytes, Urine Chemistries, Osmolality, Cardiac Markers, Thyroid Analytes, Vitamin D, Serum Proteins, Anemia Products, D-Dimer, Ferritin, Fertility Analytes, Tumor Markers & Prostate Specific Antigens. VALIDATE® kits for Coagulation analytes are coming soon.