Olerup QTYPE™ for pre-transplant matching is completed within an hour and is a robust and easy to use alternative for rapid HLA typing. The rapid matching provided by Olerup QTYPE™ is an important performance differentiator for organ transplantation laboratories. This new test brings several needed features to HLA labs, including speed and enhanced resolution.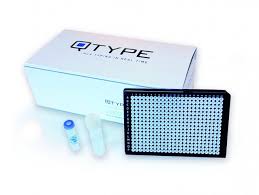 Olerup QTYPE™ is a Real Time PCR assay that utilizes the multiplexing capabilities of hydrolysis probes to increase the capacity for unique assays in each well. Using hydrolysis probes allows quick and robust typing from low input DNA concentrations and removes the risk of misinterpreting primer dimers and other PCR artefacts seen in Real Time techniques based on intercalating dyes. Due to their sequence-specific nature,hydrolysis probes also contribute towards increased specificity of the assay, potentially decreasing the number of ambiguities in the reported results.
Olerup QTYPE™ is compatable with LightCycler 480 II, Thermo Fisher Quantstudio™ 6/7 and ViiA™-7.
Olerup QTYPE™ is CE/IVD.
Benefits of HLA Typing by Real-Time PCR:
No gels and hazardous materials.

Closed system reduces risk of PCR contamination.

No misinterpretation of primer dimers and PCR artifacts.

Quick run time of <60 minutes and there is no waiting for end point for melting curves.

Probes with different fluorescent dyes enables multiplexing.

Quick and simple Analysids.