The world's first automated instrument and computer system for imaging and scoring hematopoietic colonies in the colony-forming cell (CFC) assay.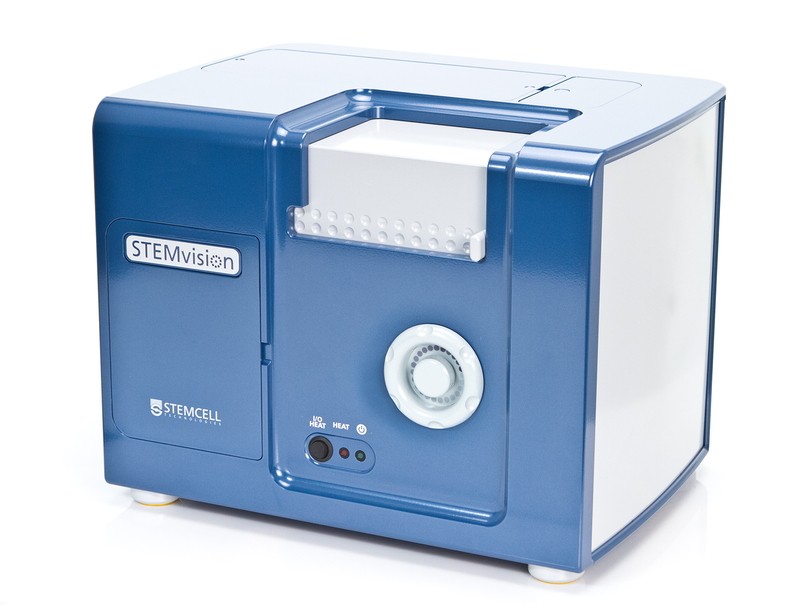 STEMvision™ consists of an instrument and software designed specifically for imaging and counting colonies in hematopoietic colony-forming unit (CFU) assays using MethoCult™ media and meniscus-free SmartDish™ cultureware. STEMvision™ software, known as Analysis Packages, replaces the need to manually count colonies using a microscope.
For human cultures, three Analysis Packages have been designed for scoring and counting hematopoietic colonies produced by erythroid, myeloid and multi-potential progenitor cells in 14-day assays of CB, BM and MPB cultured in MethoCult™ Optimum media. A fourth Analysis Package is also available for counting the total number of colonies in 7-day assays of CB cultured in MethoCult™ Express medium.
STEMvision™ images each 35 mm well in approximately 1 minute, resulting in a high-resolution image. With the updated color instrument, colonies containing hemoglobinized cells are shown in their true red color. Sophisticated analysis software is then used to identify, classify and count the colonies produced by BFU-E, CFU-G/M/GM and CFU-GEMM progenitors, in approximately 1 minute per well.
By using an automated system to standardize colony identifi cation and counting, cord blood (CB) banks can ensure that their CFU assay results are accurate and reproducible. STEMvision™ Analysis Packages have been developed to provide total CFU counts and colony classification in the conventional 14-day assay, or total CFU counts only in a faster 7-day assay of human CB cells.
Introduction to the features and benefits of the STEMvision™ system
Public Cord Blood Banks
The CFU assay can be used to identify CB units containing a high number of progenitor cells. Pre-selection of CB units with a high CFU content ensures that valuable space and resources are expended only on banking the most promising units, and thereby improves the quality of the CB repository.
The CFU assay can also be used to determine whether processing and cryopreservation have adversely affected the number of viable progenitor cells in a CB unit. This ensures that the procedures used in individual laboratories yield CB products with high hematopoietic potential.
Finally, the CFU assay can be used to assist in selecting one or more suitable CB unit(s) for transplantation. The number of viable and functional CFUs in a CB unit after thawing is a key determinant guiding selection of units with high hematopoietic potential.
Private Cord Blood Banks
The CFU assay provides families with important biological information about the quality of their child's CB sample at the time of collection. It can provide parents with assurance that the hematopoietic progenitor cells in their child's CB are viable in the event that the unit is needed for hematopoietic rescue later in life. This information can also help parents make their financial investment with greater confi dence.
The benefits of the CFU assay can be highlighted to families in the process of deciding which bank to use to process and store their CB cells. It offers a means for private CB banks to differentiate themselves from their many competitors in the marketplace.