Introducing the akiron® a small & fast system for automation of immunofluorescence assays!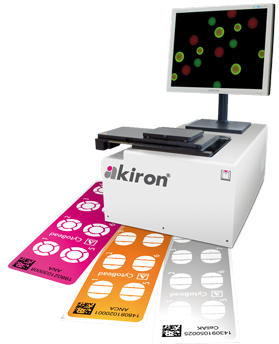 The akiron® is a smaller version of the AKLIDES® for the fully automated and standardized imaging and data processing of immunofluorescence. High quality, simple and universal, it proves its worth every day in the laboratory, particularly for those with small lab space.
Applications for the akiron® are in the field of immunology. On the one hand traditional tests for the detection of autoantibodies like HEp-2 cells (ANA), granulocytes (ANCA) and tissues (several antibodies) can be anlaysed with this system. On the other hand it is characterized through the revolutionary CytoBead® technology for ANA, ANCA, RPGN and celiac disease diagnosis.
Automated screening, endpoint titer and pattern analysis (HEp-2 and granulocytes)
Analysis of the fluorescence of antigen coated microparticles
Evaluation of AKLIDES® CytoBead® assays with quantitative results through lot-specific calibration
Documentation and archiving of data and image results.
The akiron® system is supplied by MEDIPAN GMBH (a partner of Generic Assays).