Vacuum Manifold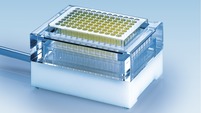 Using the vacuum manifold wash technique reduces total hands-on time, operator variation and specimen contamination.
Adsorption Beads (GPR) General Purpose Reagent for Laboratory Use
Adsorption Beads are a General Purpose Reagent designed to reduce high background that is caused by nonspecific binding of materials in human sera to the beads used in flow antibody detection assays. A preliminary adsorption of the non-specific binding material from the serum is performed to reduce or remove serum factors that may cause higher background.
LIFECODES Serum Cleaner (GPR) General Purpose Reagent for Laboratory Use
LIFECODES Serum Cleaner is a general purpose reagent designed to reduce the high background signal found in some sera due to nonspecific binding of human serum components in flow bead immunoassays. The microparticles are preincubated with high background producing sera and then removed. The treated sera can then be used in assays employing flow bead immunoassays utilizing antigen coated beads.